It is hard to believe that even with a world-wide pandemic, time has managed to keep moving, and Open Enrollment is once again around the corner. Contrary to popular belief, Open Enrollment is not just for electing or changing your health insurance benefits. Open enrollment is also a time to enroll, make changes, and set elections for your FSAs and HSAs.
Many people spend too much time trying to figure out what an FSA is or if they should invest in an HSA to have any energy to put towards making plans for their healthcare future. Our fully-automated email program takes the worry, confusion, and stress out of benefits. It helps employees make smarter spending decisions while driving higher enrollment and engagement for employers.
What, when, & how?
Medcom's Open Enrollment program is an email program that coincides with an employer's OE period. The OE period is determined by the employer and is typically the time of year when participants can enroll in coverage or make changes to their employee benefits.
Four emails are sent to employees during the OE period. The timing of the emails is approved by the employer and can be customized to fit any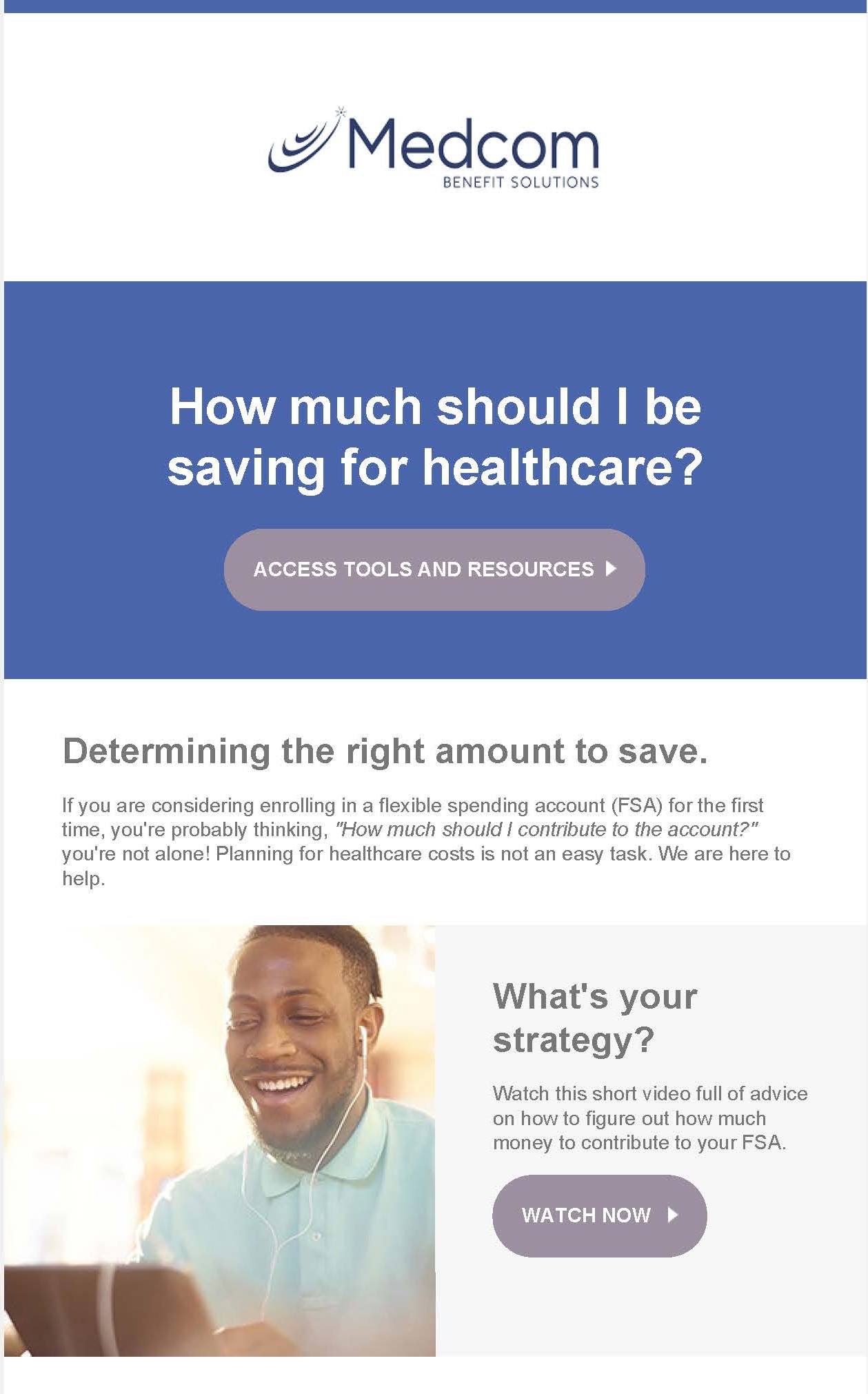 schedule.
Email 1: Planning for out-of-pocket healthcare costs
Email 2: Determining an appropriate election amount
Email 3: Saving for future healthcare costs
Email 4: Taking a more active role in your healthcare finances
The Medcom open enrollment campaign helps consumers better manage their healthcare finances with basic terminology and tools that diagnose their unique spending and saving needs. The robust library of education assets includes:
Videos
Quizzes
Calculators
Blogs
Infographics
Ready to Participate?
That's great! The best part is this program required little from partners and employers.
500+ benefit-eligible employees
Employee names
Employee email addresses
OE plan dates
Medcom is here to help walk you through the steps, collect the data, send emails, and enroll participants. No stress, no worries! If you are a partner or employer and wish to learn more about our Open Enrollment program, CONTACT US. If you are a participant needing more information about your employer-sponsored benefits, reach out to your human resource department.