Monday was MLK day, so we're giving you a brief history lesson on how the holiday came to be because it did not come without a fight. According to the King Center, the King Holiday bill to make Martin Luther King's birthday a national holiday was first introduced to Congress on April 8, 1968, by Rep. John Conyers. The following year on January 15, 1969, in order to garner nationwide support for MLK Day, the King Center coordinated several ceremonies commemorating Martin Luther King Jr.'s birthday.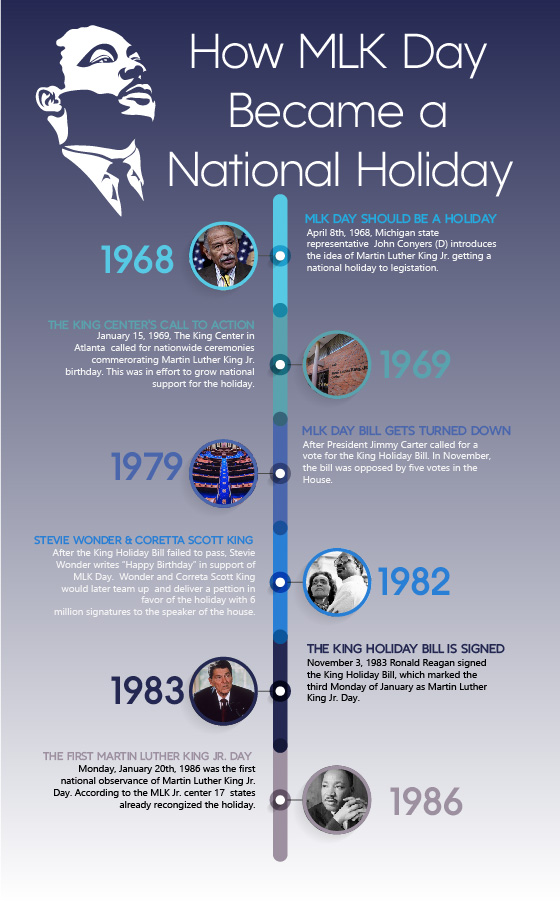 By the 1970s, support for MLK Day was growing.
Although the King Holiday Bill still failed to pass in Congress, several states, including Illinois, Massachusetts, and Connecticut, became the first to celebrate the holiday on a state level. In 1979, President Jimmy Carter asked Congress to revisit the King Holiday Bill, but unfortunately, the bill still failed to pass, defeated by five votes in the House in November of 1979. Coretta Scott King, King's widow, continued to fight for approval of the holiday despite Congress failing to pass the bill for several years. Stevie Wonder later joined the movement by releasing "Happy Birthday" in support. The song became a hit in the 1980s, and support for the holiday continued to grow. In 1982 King and Wonder presented a petition in favor of the holiday with over 6 million signatures to the Speaker of the House! Then on November 3, 1983, President Ronald Reagan officially signed the King Holiday Bill into law marking the third Monday of January, Martin Luther King Jr. Day. The first national observance of MLK Day was not until three years following the bill, on January 20, 1986. According to the King Center,17 states had already recognized the holiday at this time. You'll be surprised to know that all 50 states did not officially observe the holiday until 2000. Not that long ago, right?
Since then, MLK day has become MLK Day of Service, one of only two national days of service, to honor King's dream of equality and fight for systemic change. It is a day people around the U.S. are encouraged to volunteer to improve their local communities.
Today, Martin Luther King Jr. remains a role model for nonviolent activism and a key leader in the Civil Rights movement.